Step aside Kim Kardashian, because Wreck-It Ralph's breaking the Internet.
The long-awaited sequel of 2012's Wreck-It Ralph is almost upon us! Marking the film's imminent arrival, the House of Mouse has dropped an exciting trailer chockfull of Disney crossovers, pop culture icons, and fun blink-or-you'll-miss-it references.
Aptly titled Ralph Breaks the Internet: Wreck-It Ralph 2, our favourite big-fisted video game 'villain' Ralph and racer-BFF Vanellope are thrown out of the arcade cabinet and into the World Wide Web. Embarking on a quest to save Vanellope's video game, Sugar Rush, the pair consults an over-enthusiastic search engine and gets whisked away to a virtual world akin to digital Disneyland. Here are all the Disney, Marvel and Star Wars references we caught in this first full trailer!
Hard to miss
Eeyore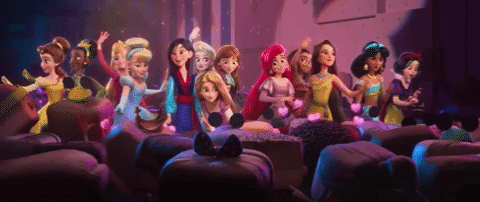 "Princesses and cartoon characters? Barf!" complains Venellope upon seeing the crowd at the oh-so-cheerful Oh My Disney. Cue Eeyore of Winnie the Pooh fame, who begrudgingly reminds the cute video game racer that it's not all rainbows and butterflies for everyone in Disney.
Iron Man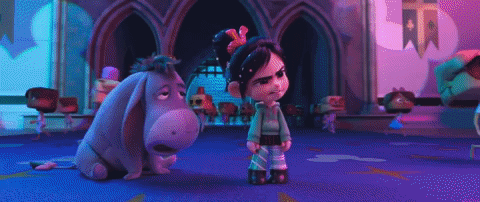 Soaring over Vanellope and Eeyore in his impressive suit, Iron Man arrives just in time to change Vanellope's mind about Disney – just like the superhero he is. If cutesy characters and Disney princesses aren't your thing, there are plenty of other options to choose from!
Storm Troopers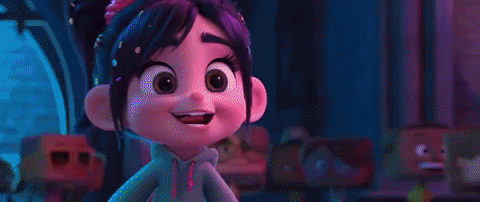 "You're coming with us kid!" Should we be surprised at how Star Wars' Storm Troopers are tasked with law enforcement, even in this virtual world? Run, Vanellope!
Disney Princesses For the first time in silver screen history, the Disney Princess squad appears in full force in (where else?) Oh My Disney. We first see the ladies giving their princess-best to their adoring avatar fans, only to turn aggressive when Vanellope (who's also technically a princess!) barges into their waiting room. One thing's for sure, there aren't any damsels in distress here!
Disney animal sidekicks Tigers, mice, and birds oh my! Beloved characters such as Rajah (Aladdin), Meeko (Pocahontas) and Cinderella's assortment of animal friends make an appearance.
Blink-and-you'll-miss-it Dumbo using his ultra flappy ears to gently make a landing
Kermit the Frog's head looms over The Muppet Show's green portal. Who else to rep the Muppet gang but the ol' green honcho himself?
Thor's Mjolliner hovers while Captain America's shield peeks out behind the Marvel portal logo.
The Sorcerer's Apprentice (Fantasia) weaves cinematic magic above the Disney Animation portal
Looming above the Pixar portal is none other than Luxo Jr., the iconic Pixar hopping desk lamp. Fun fact: Luxo Jr. comes from Pixar's first-ever animation of the same name. The two-minute short film, which revolves around one larger and one smaller desk lamp, is regarded as an animation breakthrough, and has even received an Academy Award nomination!
Looming in the background near the Pixar Portal is Big Ben, the iconic London clock. Slowly encircling it is Captain Hook's enchanted ship – a cool nod to Disney's older classics!
Reppin' the Pixar crew comes EVE (Wall-E) and Arlo (The Good Dinosaur). Interestingly, the pair have had cameos in other films; EVE appeared in Big Hero 6, while Arlo can be spotted in Monsters University and Inside Out!
Squint hard and you'll be able to make out the familiar silhouette of the floating balloon house from Up! We're glad Disney didn't leave it out.
Check out the Star Wars portal and you'll definitely spot Han Solo's X-wing Star Fighter, Empire TIE fighters, the Death Star, and R2-D2!
Bonus: cool brands, social media platforms and pop culture references What would the Internet be without social media, spam ads, search engines and online shopping? Here are some honourable mentions:
Amazon
Google
T-mall (Taobao)
Snapchat
Twitter
Ebay
Facebook
YouTube
YouTube Red
MySpace
LadBible
IMDB
ICU
National Geographic
Skype
Photoshop
Trip Advisor
Watch the trailer here: 
Ralph Breaks The Internet: Wreck-it Ralph will be in cinemas on 22 November 2018.
RELATED: 6 Handy Tips For Your Toddler's First Trip To The Movies
RELATED: [June 2018] 7 Best Movies To Watch This Month